The Artist at Home (2000)
Artist book: Woodcuts with wood covers. Edition of 14: 11.75" x 9.25" x 1.5" (closed)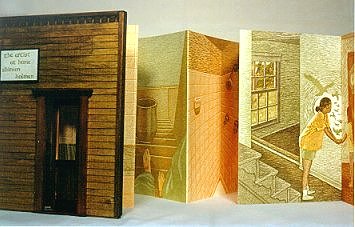 The Artist at Home is made up of images of my life in my home/studio. The pages are organized so as to emphasize the disjointedness of the life of an artist. I grab minutes in my studio in between all the other things that I do. The coffee mug and the tea kettle, for example, are obvious symbols of housework and cooking. But in my studio, the mug also becomes a pencil and brush holder.
A wild bird, a kite, representing artistic inspiration or emotional life, becomes abstracted into a stylized drawing on the studio table. In another print, I use that drawing as part of a wall hanging. As a child in India, I learned to fear kites. When we saw them circling overhead we were told that they would unpredictably swoop down and attack small moving animals, including small children. In my print I try to show how, as an artist, I take what I find, both within myself and outside of myself, and distill it and use it to create my art. I own a wood engraving by Lynd Ward, called Caged Uncaged. I have also used some of the uncaged birds from that print in one of my pages, partly as a realistic portrayal of my home, but mainly because, like my wild kite, these birds also symbolize for me a part of my life that is captured in my art.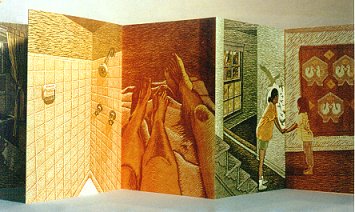 The Artist at Home is an accordion book of woodcuts printed on Rising Stonehenge paper. The cover is made of wood, with dollhouse wood siding, trim, and a dollhouse door.

Below are individual pages of the book.