Shireen Holman
Book Artist & Printmaker
(Rakshasa) The Demon of September 11, 2001
Artist book: collage on board
Dimensions: 16" x 14" (closed), 16" x 28" (open)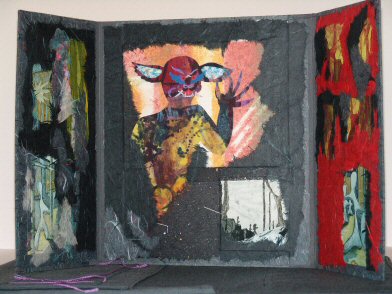 This is an artist book in the form of a panel. The inside of the panel depicts a rakshasa, a demon from Indian mythology, amid flames and smoke and images of scurrying figures. The rakshasas of mythology were enemies of men. They had hideous deformities and were monstrous in appearance. They represented forces of evil that attacked people and gods. Although the attacks of September 11 certainly had known perpetrators, in this work I have presented the event in more general terms, as representative of the evil that human beings are capable of doing. In most of my work, as in my life, I integrate two very different cultures, those of India and America. This is what made me choose the image of a rakshasa as a symbol of the human capacity for evil. I also wanted to use a symbol that dates back many centuries, to show that this evil has existed throughout history, and its horror endures.

The center back panel is an abstract collage of the twin towers of the World Trade Center in flames. The front panels show the remaining ruins.

The book is encased in a plain, dark gray woolen fabric. This is a fabric similar to the ones used for business suits, to represent the many workers who died or were injured in the tragedy.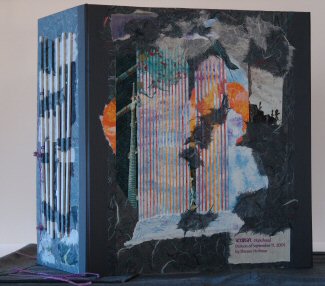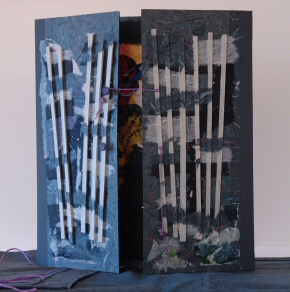 ---
Copyright © 2015 Shireen Holman
---