Shireen Holman
Book Artist & Printmaker
Stream of Life (1995)
Artist book: Paper pulp painting, woodcut, photo-engraving, and letterpress. Edition of 20: 13" x 14.5"
The text of this book consists of four poems by Tom Galt, a cousin of mine, a poet whose work has been published in books and journals, but never before in the form of an artist book. The poems chosen for this book illustrate the poetic passage from life's dawn to its dusk. The theme of the title poem, "Stream of Life," serves as the core of the imagery in the book. The book is partly a memorial to Tom, partly the development of the theme of the voyage of life, and partly the development of the theme of my own life, that of integrating two very different cultures, those of India and America - a theme that I have constantly struggled with, both in my life and in my work.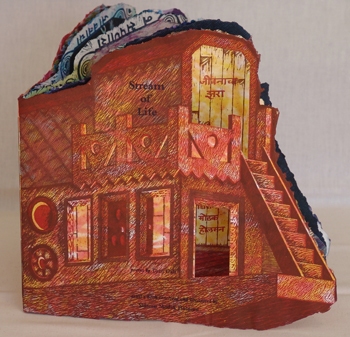 The book is a Kashmiri houseboat, a likeness of one of the hand carved wooden boats of Dal Lake, in the mountains of Kashmir, India. It is a house boat - a home, a vessel carrying and protecting us on the stormy, unknown sea of life.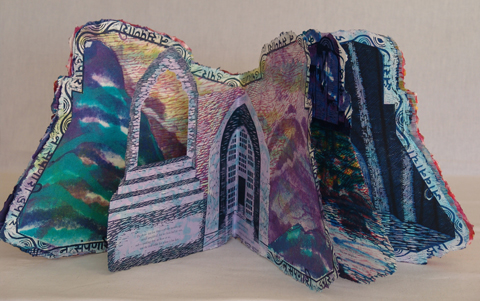 ---
Copyright © 2015 Shireen Holman
---